All inclusive Day tour.
Private luxury tour.
Private guide, entrance fees for 7 days.
Let yourself be seduced.
This tour is the perfect combination of three fantastic regions. Discover major French historical sites, gourmet food, and get to taste Champagne, Alsace and Burgundy grands crus in world famous wineries.

Day 1: Champagne Bubbles.
Your chauffeur wine guide picks you up at Charles De Gaulle airport or at your hotel in Paris.
The transportation is with an air-conditioned luxury minivan.
Transfer to Reims in the morning.
Late morning: Guided tour of the Reims Notre Dame Cathedral
The construction of today dates back to 1211, masterpiece of gothic architecture and famous for its sculpted doorway (the angel with the smile).
The cathedral had been the theatre of the French Kings' coronations since Clovis' baptism in 500.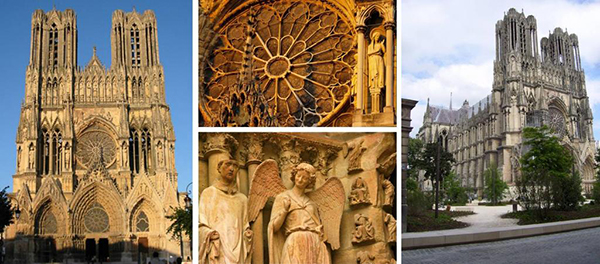 Lunch is at your convenience in Reims.
France Champagne Tours opens the doors to the Grande Maison de Champagne: Guided tour and tasting at world famous Mumm.
This Maison de Champagne was founded in 1827, however the Mumm dynasty dates back to the 12th century. They were German and in the 18th century they were already wine producers and merchants. Recognising the quality and the potential of the sparkling wines produced in the nearby Champagne region, in 1927 they decided to establish a branch of their wine company there. "Only the Best" being their motto, they soon seduced illustrious European royal families. The creation of the "Cordon Rouge" definitely established their fame: they became the official supplier of the British Royalty – which they still are – and they attracted artists such as Utrillo and Foujita.

Transfer to your hotel near Epernay.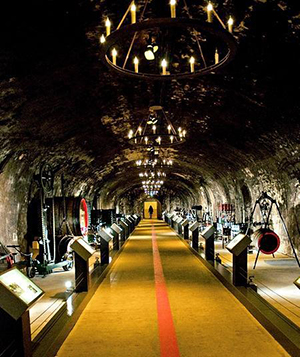 YOUR HOTEL NEAR EPERNAY FOR 2 NIGHTS
Check in at your 4* L hotel near Epernay, Reims region - double superior room.
In a peaceful setting in the heart of the Champagne vineyards, the hotel founded in 1973 and built on the site of a former bricks factory, is an exclusive gastronomic residence to enjoy the "Art de Vivre". Free access to the SPA.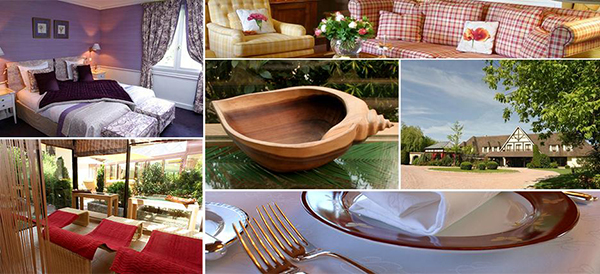 Gourmet dinner in the restaurant of the hotel. (drinks are not included)
Day 2: Tours and Champagne tastings.
09h30: Pick up at your hotel.
Mid-morning, tour of the exquisite village of Hautvillers,You will see the grave of the Monk Dom Perignon in the village church. We'll walk to the edge of the hill and enjoy the view on the whole Marne Valley and all the vineyards owned by the most famous Champagne producers around Epernay.

Champagne tasting lunch. (drinks included)
Drive to Epernay, the Capital of Champagne.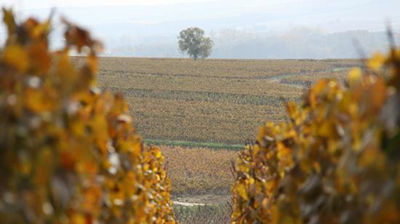 Tour and Champagne tasting.
Tour of the world famous Moet and Chandon, producer of the Dom Perignon. Grand Vintage tour: after a guided tour of the caves, you will taste a set of vintage champagnes in a private salon.

Drive to Billecart Salmonwinery along the picturesque vineyard roads.
Tour and Champagne tasting.
Billecart-Salmon is a medium-sized champagne house in Mareuil-sur-Ay. Founded in 1818 with the marriage of Nicolas François Billecart and Elisabeth Salmon, it is one of the few to remain family owned. The Cuvee Nicolas-Francois Billecart 1959 won first place in the Champagne of the Millennium 1999, out of 150 of the finest 20th century champagnes.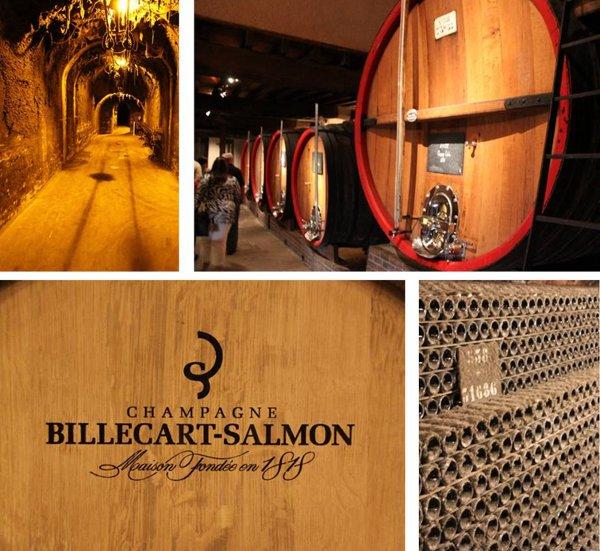 At the end of the afternoon, return to your hotel.
Dinner at your leisure.
Day 3: Strasbourg city, Cathedral.
Transfer to Strasbourg.
Lunch at your leisure.
Guided tour of Strasbourg city and its cathedral.
With its monumental cathedral featuring carvings as delicate as any piece of lacework, Strasbourg is one of Europe's most attractive cities. Thanks to the richness and sheer density of its heritage sites, the entire town centre has been listed as UNESCO World Heritage.
Wine tasting Strasbourg.

YOUR HOTEL FOR 2 NIGHTS
Check in at your La Pommeraie **** - superior double room.
Formerly home to the king's lieutenants, barracks for military governors and then the abode of a baron of the Empire… This abbey, tucked away at the foot of the Alsatian vineyards.The light wood bedrooms are a reflection of the welcome which will be extended to you by Christiane and Pascal Funaro: subtle and welcoming.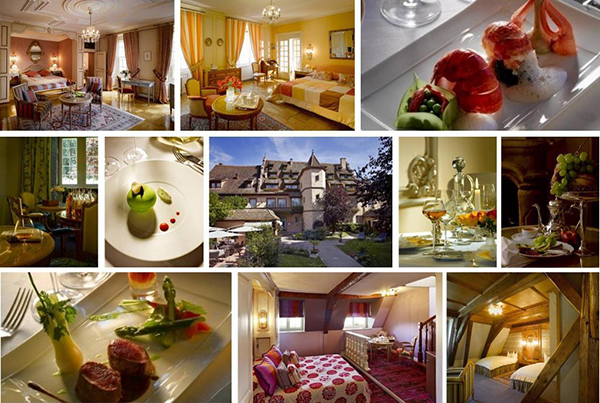 Dinner and evening at your leisure.
Day 4: Ribeauvillé, Colmar and wine tasting.
After breakfast, drive to Chateau Koenigsbourg.
Guided tour of the Chateau.
Since its construction in the 12th century, the Haut-Kœnigsbourg castle has been a constant witness to both European conflicts and rivalry between lords, kings and emperors.
A number of illustrious owners each left their mark on the castle's history, and successive events even led to changes in the castle's structure…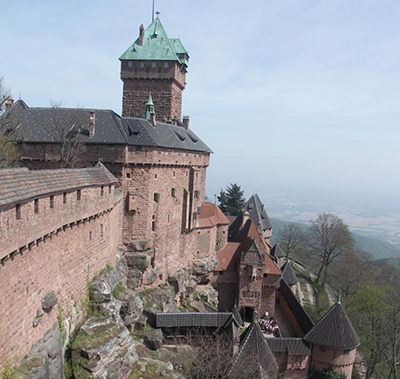 The first records of a castle built by the Hohenstaufens date back to 1147. Staufenberg, as it was called at the time, sat high above the Alsace plain at an altitude of more than 700 meters. This rocky, promontory site was ideal for observing the main routes in the region, and provided a strategic fall-back point.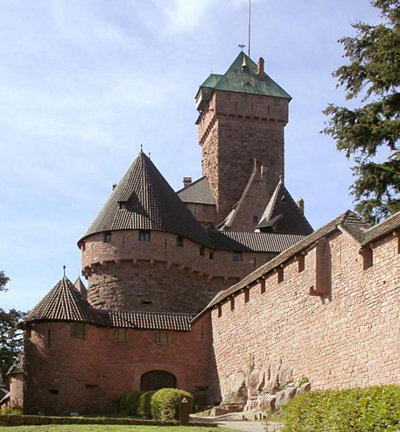 The fortress changed its name to Kœnigsbourg (royal castle) in around 1192. The castle was handed over to the Tiersteins by the Hapsburgs following its destruction in 1462. They rebuilt and enlarged it, installing a defensive system designed to withstand artillery fire. This was the golden period for the Hohkœnigsbourg ("Hoh" meaning… "High"!)

Lunch at your leisure.
Transfer to Ribeauvillé.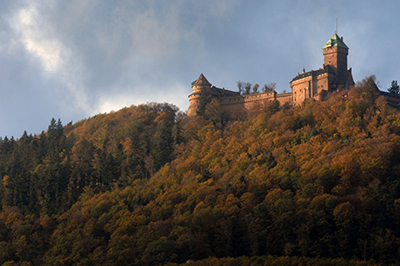 Tour of Ribeauvillé.
Ribeauvillé has a long History. It is first mentioned under "Ratbaldovillare" in an official document. It meant "Villa of Ratbold", which in old german "means "the boldest man of the counsel". Masters of great and little things, the Counts of Ribeaupierre who were the last lords of the town before the French revolution, were also the protectors of the travelling musicians and actors who filled the town every 8th of September. This tradition is still alive nowadays, and visitors from around the world gather in Ribeauvillé to see traveling musicians put up a tribute show to their ancient sponsors.

Transfer to Colmar.
Guided tour of Colmar.
Colmar was founded in the 9th century. This was the location where Charles the Fat held a diet in 884. Colmar was granted the status of a free imperial city of the Holy Roman Empire in 1226. During the Thirty Years' War, the city was taken by the armies of Sweden in 1632, who held it for two years. The city was conquered by France under Louis XIV in 1697.
In 1679 (Treaties of Nijmegen) Colmar was ceded to France. With the rest of Alsace, Colmar was annexed by the newly formed German Empire in 1871 as a result of the Franco-Prussian War. It returned to France after World War I, was annexed by Nazi Germany in 1940, and then reverted to French control after the battle of the "Colmar Pocket" in 1945.

Transfer to a local domain.
Guided Tour and tasting at a family Grand Cru Domain.
The "Alsace Grand Cru" AOC is attributed to wines whose key characteristic is the originality of the terroir in which they are grown (soil, exposure, climate etc.). It mainly concerns Gewurztraminer, Muscat, Tokay Pinot Gris, Riesling and, since the end of 2005, the Sylvaner of the Grand Cru Zotzenberg of Mittelbergheim, as well as assemblage wines from the Grand Cru Altenberg of Bergheim. These wines are harvested at the 50 Alsatian locations specified by the AOC designation. Furthermore, under certain conditions of ripeness, the bottle labels may say "Late Harvest" (long ripening of the grapes) or "Selection of Noble Grapes" (a selection of grapes affected by noble rot, or botrytis).

Dinner at your hotel (drinks are not included).
Night at your hotel.
Day 5: Transfer to Beaune.
Check out after breakfast.
Transfer to Beaune. Lunch at your leisure on the way.
Tour and wine tasting in Beaune.
This is all the more true in Burgundy, where the wines produced are single varietals as compared to elsewhere in France where the wines are made by blending several varietals. Four varietals have, in different respects, anchored the reputation of Burgundy's wines.
However, two varietals dominate: Pinot Noir, which has made the great red wines of Burgundy famous, and Chardonnay for the white wines. Aligoté is less prevalent, representing a mere 3% of the area under vine. The Gamay grape is the king varietal in the Beaujolais.

YOUR HOTEL IN BEAUNE FOR 3 NIGHTS
Check in at your hotel Le Cep**** in the heart of Beaune.- superior double room.
Ideally located, the hotel is in the very heart of historic Burgundy, just a stone's throw from the center of Beaune. The Hotel is two minutes walking distance from the famous Hospice de Beaune and its magnificent cathedral Notre Dame.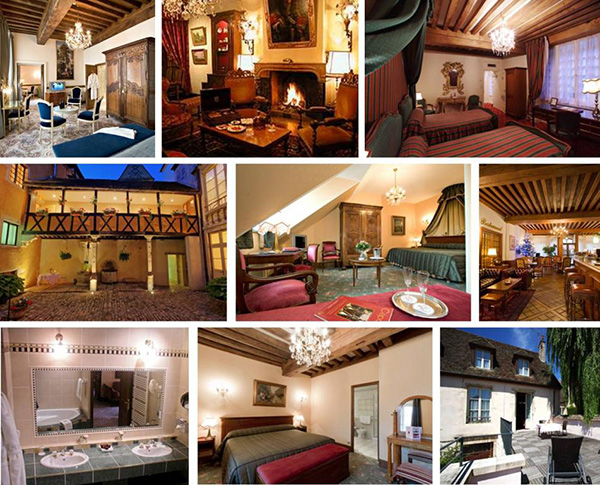 Dinner at your leisure with our list of recommended restaurants.
Day 6: Burgundy North, Cote de Nuits.
Drive through the vineyards along "Route des Grands Crus", passing Chambolle-Musigny, Vosne Romanée, Nuits-St- Georges and Aloxe Corton.
Wine tasting in Nuits Saint Georges.
This family domaine elaborates very elegant wines. The Nuits Saint Georges 1er Crus are incredibly rich with round tannins (masculine wines).

Lunch is at your leisure in Nuits Saint Georges.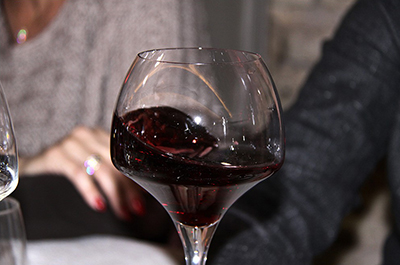 Transfer and tour of the Chateau Clos Vougeot.
Founded in 1098 by monks, the vineyard of Clos de Vougeot covers 50 hectares. Its wines are ones of the most famous in Burgundy.
Today the vineyard is divided between 80 owners.
Chateau Clos Vougeot is listed by UNESCO as a world heritage.

We end the afternoon in the Northern part of the Cote de Nuits, Gevrey Chambertin, with a tour and wine tasting at a famous Domain.

The family is established in Gevrey Chambertin since 1850. Since, they managed to increase the size of their vineyard always looking for the best "Terroir". Nowadays the family produces wine in 7 Grands Crus appellation as prestigious as Clos Vougeot, Musigny, Latricière Chambertin…as well as 4 famous 1er Cru of Gevrey Chambertin.

Night in 4*L hotel. Dinner in a gourmet restaurant (drinks are not included).
Day 7: Burgundy South, Cotes de Beaune.
Guided tour of the Hospices de Beaune.
Hospices Civils de Beaune which have, since their foundation in 1443 by the Chancellor Nicolas Rolin, kept their doors open to everyone without interruption. This institution, unique in its historical and wine-producing, is closely connected with the economic life of the region.

11.30PM: Transfer to Puligny Montrachet.
Picturesque driver through the famous villages of Pommard, Volnay, Puligny Montrachet, Chassagne Montrachet and Meursault.
Tasting lunch in Puligny Montrachet, 10 wines.
12.00PM: Tour of Olivier Leflaive's winery in Puligny Montrachet.
In October 1984, Olivier Leflaive decided to create a new renown for the wines of Burgundy with the help of his brother Patrick and his Uncle Vincent. He had one ambitious objective in mind: to apply all the « savoir-faire » acquired from the Domaine Leflaive to the vinification of various different red and white Burgundy « appellations ».
It was a natural progression for the young company of Olivier Leflaive to set up a Domaine. The acquisitions have been in the following « appellations » and today total 12 hectares : Puligny Montrachet, Meursault 1er cru Poruzot, Chassagne Montrachet 1er cru les Chaumées, Chassagne Montrachet 1er cru les Vergers et Clos Saint Marc, Chassagne Montrachet 1er abbaye de Morgeot, Bourgogne Blanc les Setilles, Chassagne Montrachet blanc et rouge, Bourgogne rouge cuvée margot, Bourgogne Aligoté.

Free time in Beaune for shopping.
Night in hotel****.
Dinner at your leisure.
Day 8: Return to Paris, end of the tour.
Check out after breakfast.
Return to Paris. Drop at the airport or at your hotel.
End of the tour.
This tour includes
Transportation in an air-conditioned comfortable minivan during 8 days, fulltime wine guide fluent in English during 8 days, 3 gourmet dinners (drinks are not included), 7 nights in 4*L hotels, double occupancy superior rooms, all breakfasts, guided tour of Reims Cathedral, tours and wine tastings at Champagne Houses (Mumm, Moet and Chandon and Billecart Salmon), 1 Champagne tasting lunch, guided tour of Strasbourg and its cathedral, 2 tours and wine tastings in Alsace, entrance fees and guided tour of Chateau Haut-Koenigsbourg, tour of Ribeauvillé, guided tour of Colmar, tours and wine tastings in Burgundy (Beaune, Nuits Saint Georges, Gevrey-Chambertin, tour and wine tasting lunch in Puligny Montrachet, entrance fees and guided tour of Clos Vougeot and Hospices de Beaune.
The wineries mentioned in this tour are subject to changes.
This tour doesn't include
Drinks, extra, gratuities, other meals.
| | |
| --- | --- |
| Duration of the tour | 8 days |
| Type of travel | Private tour |
| Minivan | Semi private or private tour. The transportation of this excursion is operated in a comfortable full options minibus. Maximum 8 passengers per minibus. |
| Children | Reduced price for children under 12 years old. Free of charge for infants under 3 years old. |
| Guide | Semi private or private tour. This tour is escorted by an official Guide Interpreter. The guide gives you a tour of the monuments and presents you the history and architecture of the visited sites and towns. |
| Lunch | Traditional wine maker lunch and drinks are included in the tour. Lunches are hosted by winemakers to present you local specialties and good local wines. (Specific diets have to be mentioned 72h in advance). |
| Types of travel | Private tours |
| Destinations | Alsace |
| Destinations | Burgundy |
| Destinations | Paris |
| Destinations | Champagne |
| Number of destinations | 4 |
| Duration | 8 days |
Expert on customized private tours all over France since 2003 !
You like this tour but you do not want to share the minivan with other guests ? We have the perfect fit for you ! Enjoy this tour on a private basis !
The exclusivity of a private expert English-speaking driver guide.
Private transportation in a full option minibus comfortable Mercedes minivan.
Complementary pick up and drop off at your hotel.
Our guides will not give you a lecture but will take you as a friend and in a relaxed way, reveal plenty of anecdotes ! The guarantee of having a tour completely adapted to your profile, your questions and your preferences !
Private Luxury Wine tour: The A, B ,C: Alsace, Burgundy and Champagne wine tours - 8 days and 7 nights in luxury hotels
Customer ratings and reviews
Nobody has posted a review yet