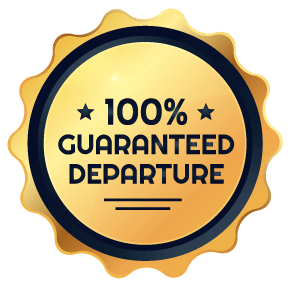 Registered guide, entrance fees.
3 days of tours & 2 Nights in 4* hotel in the heart of Tours.
Available from April 19th to October 30th
Day Tours available from Monday to Saturday, NO Day Tours on Sundays.
Blois, Cheverny et Chambord : Monday & Thursday

Pick up: 08:50 AM at your hotel**** or 09:00 AM at Tourist Office in Tours.
Guided tour of the Chateau of Blois.
The chateau of Blois is unique by its combination of 4 styles: medieval, gothic, renaissance and classical. Home of kings Louis XII and François I, it keeps the souvenir of a tragic historical event.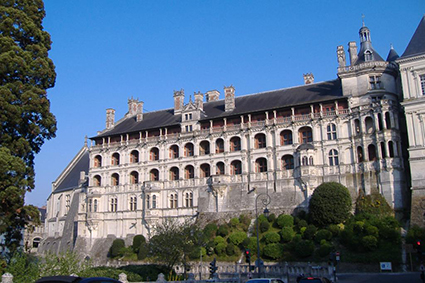 Tour and tasting at an organic local winery.
Enjoy an exclusive and convivial tasting of Cheverny and Cour-Cheverny wines, king François 1st 's favourite wines at a local winery. Wines of the domain and terroir specialities.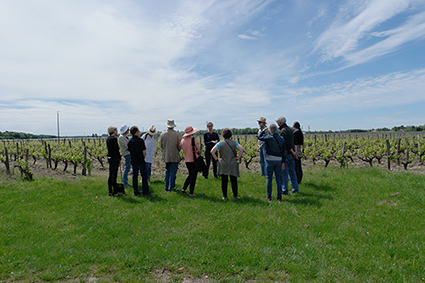 Lunch at your leisure
Guided tour of the Chateau of Cheverny.
It has been owned by the same family since the XIII. The Marquis Hurault de Vibraye, thanks to one of the most beautiful furniture in the Loire Valley, has succeeded in giving warmth and life to his chateau. The chateau, which led to the creation of Moulinsart in the famous comic book Tintin, is also famous for the tradition of the horse-back hunt and its impressive pack of 100 dogs. You may have a chance to witness the spectacular daily event of "the dogs' soup".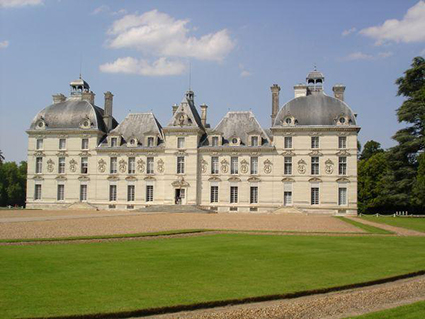 Guided tour of the Chateau of Chambord.
Drive to the Estate of Chambord, a national game reserve as large as the town of Paris. The chateau de Chambord (guided tour) is a unique monument by its architecture and proportions. Leonardo da Vinci probably took part in the conception of the project. With more than 400 rooms and its double spiral staircase, Chambord is a highlight of the Loire Valley.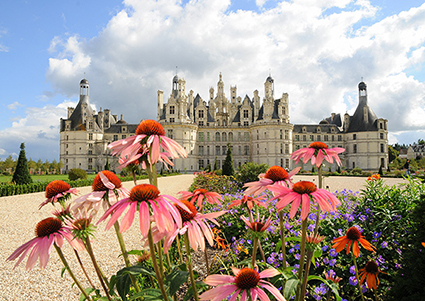 Drop-off: 05:40 PM at your hotel****, dinner at leisure or 05.30 PM at Tours Tourist Office
Chenonceau, Royal Castle of Amboise and Clos Lucé : Tuesday & Friday

Pick up: 08:50 AM at your hotel**** in Tours or 09.00 PM at Tours Tourist Office
Guided tour of the Chateau of Chenonceau.
Arriving in the Loire Valley, you'll start your day tour touring the château de Chenonceau.
The "Chateau des Dames", bridge built across the Cher, is famous for the great feminine figures who lived in it (Diane de Poitiers, Catherine de Medicis…) and for the beauty of its Renaissance gardens.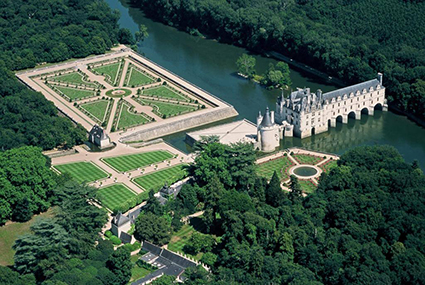 Tour and wine tasting at a wine specialist's in matured Loire Valley vintages.
Pascal and his team, welcome you in his caves, former tuff stone quarries, for a tour followed by a wine tasting of 3 local wines.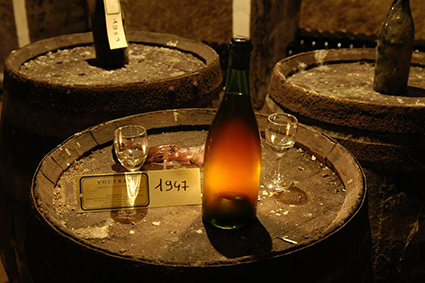 Lunch at your leisure
Guided tour of the Royal Chateau of Amboise.
After lunch, you will tour the Royal Castle of Amboise, residence of Charles VIII and young François d'Angoulème, future Francois I. You will discover in this wonderful castle, perfect example of transition from Gothic to Renaissance, the Saint Hubert Chapel which shelters today the grave of Leonardo da Vinci.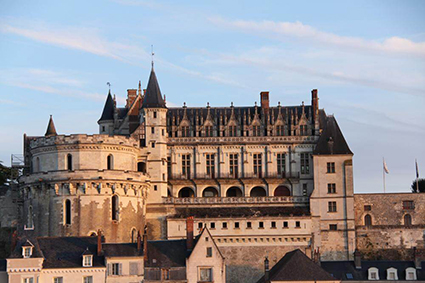 Guided tour of the Chateau of the Clos Lucé.
In order to make your tour thorough, we take you to meet the Genius in his Chateau du Clos Lucé, a few yards away from the Royal Castle.
Leonardo da Vinci spent there the last three years of his life and died there in 1519. After you tour his bedroom, office, reception room and kitchen, you will be in awe in front of the invention room, displaying models of the most spectacular machines Leonardo invented.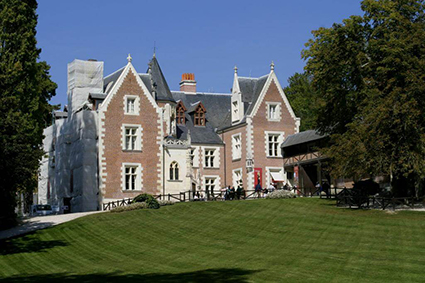 Drop-off: 05:40 PM at your hotel****, dinner at leisure or 05.30 PM at Tours Tourist Office
Azay le Rideau, Langeais, Villandry : Wednesday & Saturday


Pick up: 09:30 AM at Tours Tourist Office or 09.40 PM at your hotel**
Guided tour of the chateau of Azay le Rideau.
This is one of the purest gems of Renaissance architecture in the Loire Valley. Financer Gilles Berthelot's Chateau, delicately placed on an island on the Indre river, still shines today thanks to the lightness and balance of its mullioned, pepper pots, dormers and above all its graceful staircase.
We will not forget to admire the Chateau under every angle with a stroll around the English style garden, a jewel case of greenness for what is considered today as one of the most beautiful stone diamonds in Touraine.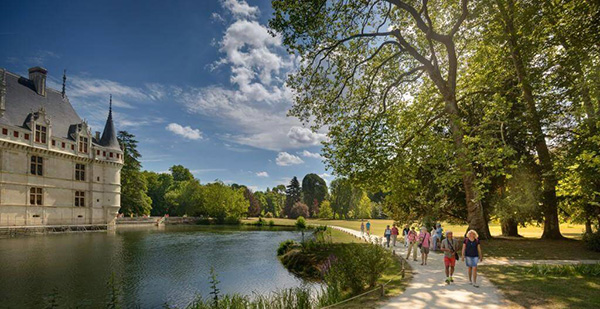 Wine tasting at an organic local domain.
The vines of this estate are ideally spread out over the entire « terroir » covered by the appellation, from the gravel shores along the Loire River to the clay, limestone and silica (mineral) soils of the hills overlooking the valley.
The red and rosé wines produced on the domain are presented under the appellation « Bourgueil » AOC. They stem 100% from the « Cabernet Franc » grape, introduced by the monks of the Abbey in the XIth century.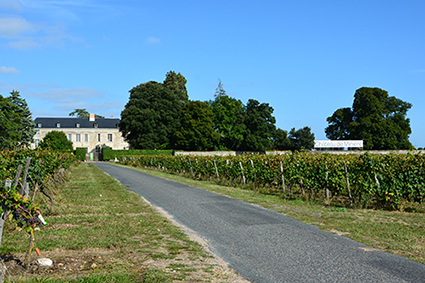 Lunch at your leisure
Guided tour of Chateau of Langeais.
Best reconstitution of everyday life in the Middle Ages, the royal castle of Langeais, built under king Louis XI, was the scene of the wedding of king Charles VIII and Ann of Brittany. In the spectacular banquet and wedding halls, you will discover amazing original sets of tapestries and furniture.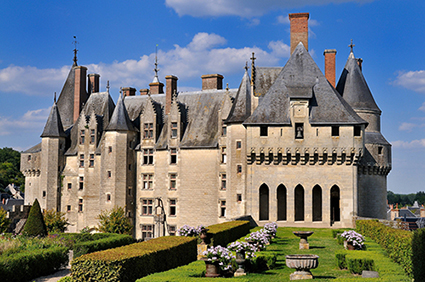 Guided tour of one of the most spectacular gardens of Touraine, Villandry.
By its diversity and originality (Love Garden, Kitchen Garden, Aromatic and Medicine Plant Garden, Water Garden and the brand new Sun Garden) and by its size (15 acres, 1150 linden trees), Villandry is the Loire Valley garden not to be missed. With your guide, learn to speak the language of a medieval and Renaissance garden, discover the power of thyme and basil on your health.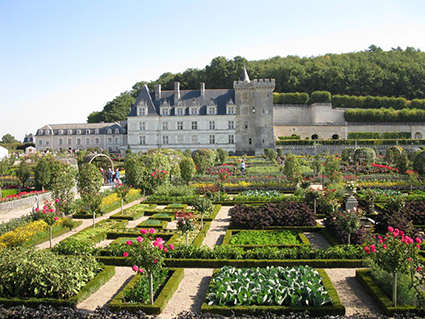 Drop-off: 05:40 PM at your hotel****, dinner at leisure or 05.30 PM at Tours Tourist Office
YOUR HOTEL IN TOURS FOR 2 NIGHTS
Check in at your hotel**** l'Univers - double occupancy
Your hotel is set in a fashionable shopping area one kilometre from the Old Town. This hotel has been the most prestigious address in Tours since 1846. Many large personalities of the Europe and the New World stayed in this best hotel of Tours. In addition to its rich and historic past, as underlined by its celebrated portrait gallery, it offers all the comfort of a grand hotel established in the best traditions of hospitality and elegance "à la Française".
Hotel may change according to their availability. Should a provider be unavailable we will offer alternatives of the same standard.

Discover the area known as "Old Tours", pedestrian streets and numerous XVth and XVIth c. timber-framed houses, the famous place Plumereau, Charlemagne Tower, Saint-Martin collegiate church, and the new Saint-Martin Basilica.
Walk in the fabulous market on Tours, the largest food market in the Loire Valley. Open market on Wednesdays and Saturdays and covered market every day.
Discover our wines, cheeses, our fruits, vegetables, local meat dishes (charcuterie) and fish.
Tours is the largest city in the Loire Valley and its capital city. Located in the heart of the region, it is the best base for sightseeing. Historically and architecturally speaking, it is one of the cradles of the French Renaissance.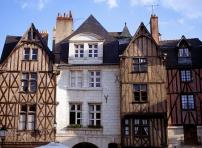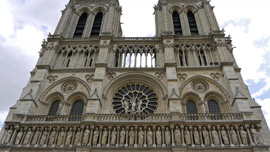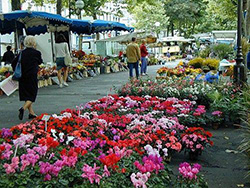 Loire Valley Day tours from Paris (save time and money with the TGV).
Tours being only 70 minutes away from Paris by TGV, here is our train time table recommendation.
From Paris to Tours : to be advised shortly
From Tours return to Paris : to be advised shortly



This tour includes
Transportation in a comfortable full options minivan, English speaking escort guide, entrance tickets for the Chateaux of Chenonceau, Amboise, Clos Lucé, Blois, Chambord, Cheverny, Azay Le Rideau, Langeais and Villandry gardens, visits and tastings at a cellar caves (Vouvray, Cheverny, Chinon or Bourgueil), two nights in hotel**** on double occupancy with breakfasts, taxes included. 8 passengers maximum per vehicle.
This tour does not include
Personal expenses, extra, lunches, dinners, other meals and gratuities.
| | |
| --- | --- |
| Duration of the tour | 3 days |
| Type of travel | Small group |
| Language | We authorize a maximum of 2 different languages per minivan. In that case, your guide will lead the tour in 2 languages. |
| Hotel address | Hôtel de l'Univers**** - 5 Boulevard Heurteloup, 37000 Tours, France (+33 2 47 05 37 12) |
| Minivan | Semi private or private tour. The transportation of this excursion is operated in a comfortable full options minibus. Maximum 8 passengers per minibus. |
| Guide | Semi private or private tour. This tour is escorted by an official Guide Interpreter. The guide gives you a tour of the monuments and presents you the history and architecture of the visited sites and towns. |
| Chateau | The tour includes the tickets to the Chateaux mentioned in the tour. You avoid all queues and have direct access to the monuments with your guide. |
Expert on customized private tours all over France since 2003 !
You like this tour but you do not want to share the minivan with other guests ? We have the perfect fit for you ! Enjoy this tour on a private basis !
The exclusivity of a private expert English-speaking driver guide.
Private transportation in a full option minibus comfortable Mercedes minivan.
Complementary pick up and drop off at your hotel.
Our guides will not give you a lecture but will take you as a friend and in a relaxed way, reveal plenty of anecdotes ! The guarantee of having a tour completely adapted to your profile, your questions and your preferences !
Loire Valley Super stay Comfort, 3 Day Tours and 2 nights in 4* hotel in Tours
Customer ratings and reviews
Nobody has posted a review yet