All inclusive Day tour.
Private tour.
4 nights at 4* hotel, 2 night in a Luxury private Manor.
Private guide, entrance fees for 7 days.
PRIVATE & LUXURY CHAMPAGNE / BURGUNDY / LOIRE VALLEY WINE TOURS
Let yourself be seduced.
This tour is the perfect combination of three fantastic regions. During this France Luxury wine tour, discover major French historical sites, gourmet food, and get to taste Champagnes, Burgundy and Loire Valley grands crus in world famous wineries.(This tour can be operated in comfortable minivan for 4, 6, 8 and plus passengers, information at the bottom of the page).
Day 1: Champagne Bubbles.Transfer to Champagne for our first tours and wine tasting.

Your chauffeur wine guide picks you up at Charles De Gaulle airport.
The transportation is with an air-conditioned Mercedes minivan.
Transfer to Reims in the morning.
Late morning: Tour of Notre Dame de Reims Cathedral, whose the construction of today dates back to 1211, masterpiece of gothic architecture and famous for its sculpted doorway (the angel with the smile).
The cathedral had been the theatre of the French Kings' coronations since Clovis' baptism in 500.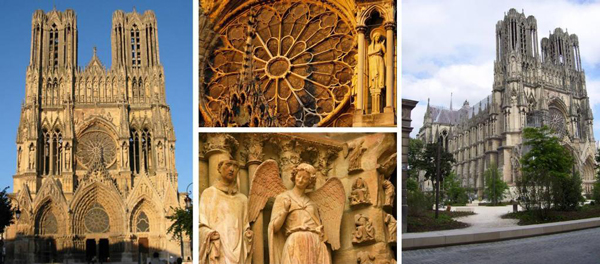 Lunch is at your convenience in Reims.
Tour and Wine tasting at Taittinger.
Located in the great regions of wine-growing Champagne, the Champagne Taittinger vines cover 288 hectares evenly distributed over 34 different vineyards, which include some of the appellation's finest. With varietals consisting of 50% Pinot Noir, 15% Pinot Meunier and 35% Chardonnay, the Taittinger vineyard is an unsurpassed example of that House's own style of wine , in which Chardonnay plays such a significant role. The vineyard's own production is supplemented by contractual acquisition of grapes from independent suppliers operating the finest vineyards in Champagne.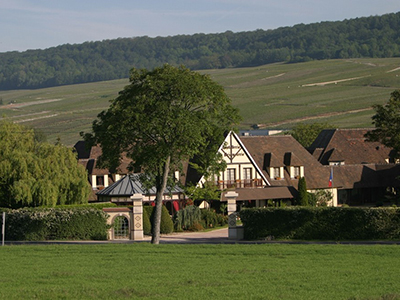 YOUR HOTEL NEAR EPERNAY FOR 1 NIGHT
Dinner and night in at your 4* L hotel near Epernay, Reims region.
Gourmet dinner in the restaurant of the hotel.
In a peaceful setting in the heart of the Champagne vineyards, the hotel founded in 1973 and built on the site of a former bricks factory, is an exclusive gastronomic residence to enjoy the "Art de Vivre". Free access to the SPA.

Day 2: Champagne & Chablis.
Check out and after beakfast, drive to Epernay.
Tour and Champagne tasting.
Tour of the world famous Moet and Chandon, producer of the Dom Perignon. Grand Vintage tour: after a guided tour of the caves, you will taste a set of vintage champagnes in a private salon. Tour and wine tasting at Moet & Chandon.
Before the visit we propose you a short film presenting the history of the company and a general introduction of the Domain. Visit in English of spectacular cellars of Moet. Private wine tasting of vintage White and Rosé.
Dress warm!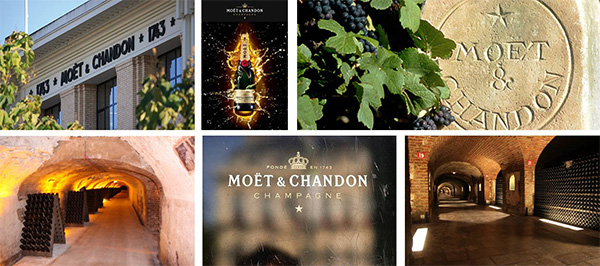 Lunch is at your convenience on the way to Chablis.
In Chablis you tour the caves of a family domain famous for their 1er Cru. A Chablis wine tasting is of course included. Discover one of the most beautiful historical sites of Chablis. This old monastery from the 9th Century was the home of the Monks of the Order of Saint Martin from Tours (Linked with Vouvray wines that we will tour in a few days).
The success that Chablis has enjoyed over the centuries relies on the particularity of these vineyards that are located in a semi-continental climatic zone marked by strong temperature fluctuations. But above all else, the key to this success is the marriage between Chardonnay, one of the most noble of all grape varieties, and the Kimmeridgian subsoil, making the terroir of Chablis one-of-a-kind, all of which amplifies the characteristics of Chardonnay.
Wedding richness and minerality, the wines express themselves in four appellations: Petit Chablis (650ha), Chablis (3,055ha), Chablis Premier Cru (775ha), and Chablis Grand Cru (100ha).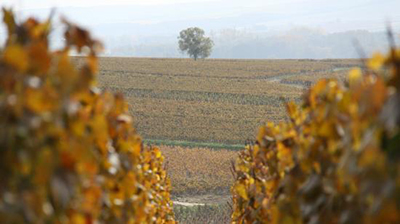 Night in a 4* hotel in Beaune.
Gourmet in a restaurant near the hotel.
YOUR HOTEL IN BEAUNE FOR 3 NIGHTS
Check in at your hotel**** Le Cep - double occupancy
Ideally located, the hotel is in the very heart of historic Burgundy, just a stone's throw from the center of Beaune. The Hotel is two minutes walking distance from the famous Hospice de Beaune and its magnificent cathedral Notre Dame. Affiliated to the Small Luxury Hotels of the World, which include some of the best hotels in the world all representative of their regional identities, Le Cep owes its charm to the uniting of 2 private mansions and their historical 16th century courtyards.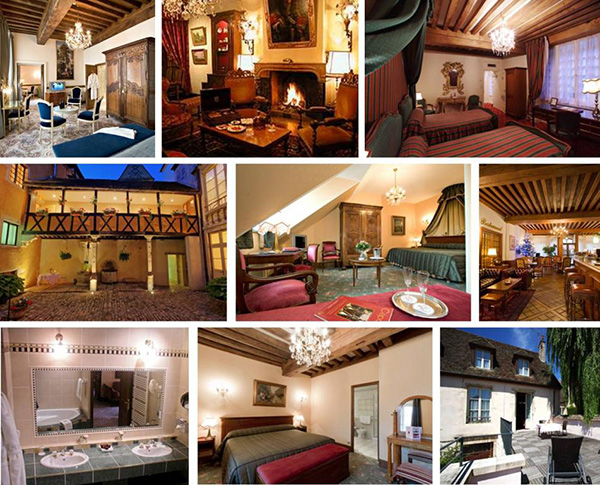 Enjoy Beaune's amazing restaurants, casual or gourmet, where you can try the incredible Burgundy specialties: escargots de Bourgogne, boeuf bourguignon, oeufs en meurette. (poached eggs served in a sauce made a reduced Burgundy red wine), coq au vin, fromages (cheeses).
Day 3: Burgundy North, Cote de Nuits "Pinot Noir Kingdom"
Drive through the vineyards along "Route des Grands Crus", passing Chambolle-Musigny, Vosne Romanée, Nuits-St- Georges and Aloxe Corton.
Tour and wine tasting in Nuits Saint Georges.
This family domaine elaborates very elegant wines. The Nuits Saint Georges 1er Crus are incredibly rich with round tannins (masculine wines). Lunch is at your leisure in Nuits Saint Georges.
Transfer and tour of the Chateau du Clos Vougeot.
Founded in 1098 by monks, the vineyard of Clos de Vougeot covers 50 hectares. Its wines are ones of the most famous in Burgundy.
Today the vineyard is divided between 80 owners. Chateau Clos Vougeot is listed by UNESCO as a world heritage.

We end our tour and wine tasting of the day in the Northern part of the Cote de Nuits, Gevrey Chambertin.Tour and wine tasting at a famous Domain.
The family is established in Gevrey Chambertin since 1850. Since, they managed to increase the size of their vineyard always looking for the best "Terroir". Nowadays the family produces wine in 7 Grands Crus appellation as prestigious as Clos Vougeot, Musigny, Latricière Chambertin...as well as 4 famous 1er Cru of Gevrey Chambertin.

Night in 4*L hotel. Dinner at leisure.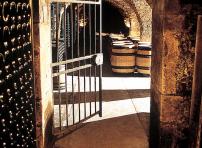 Day 4: Burgundy South, Cotes de Beaune "Chardonay Kingdom".
We take the direction of Bordeaux. Lunch is at your leisure in Cognac.
Guided Tour of the Hospices de Beaune.
Hospices Civils de Beaune which have, since their foundation in 1443 by the Chancellor Nicolas Rolin, kept their doors open to everyone without interruption. This institution, unique in its historical and wine-producing, is closely connected with the economic life of the region.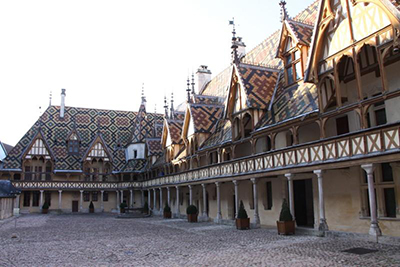 Wine tasting lunch in Puligny Montrachet, 14 wines.
11.30: transfer to Puligny Montrachet.
Picturesque driver through the famous villages of Pommard, Volnay, Puligny Montrachet, Chassagne Montrachet and Meursault.

12.00: Tasting lunch in Puligny Montrachet, 14 wines.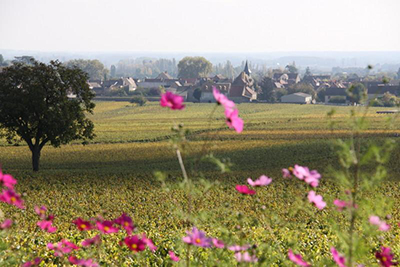 Guided tour of Olivier Leflaive's winery in Puligny Montrachet.
In October 1984, Olivier Leflaive decided to create a new renown for the wines of Burgundy with the help of his brother Patrick and his Uncle Vincent. He had one ambitious objective in mind : to apply all the « savoir-faire » acquired from the Domaine Leflaive to the vinification of various different red and white Burgundy « appellations ».

It was a natural progression for the young company of Olivier Leflaive to set up a Domaine. The acquisitions have been in the following « appellations » and today total 12 hectares : Puligny Montrachet, Meursot 1er cru Poruzot, Chassagne Montrachet 1er cru les Chaumées, Chassagne Montrachet 1er cru les Vergers et Clos Saint Marc, Chassagne Montrachet 1er abbaye de Morgeot, Bourgogne Blanc les Setilles, ,Puligny Montrachet, Chassagne Montrachet blanc et rouge, Bourgogne rouge cuvée margot, Bourgogne Aligoté.
Free time in Beaune for shopping.
Night in hotel****. Dinner at leisure.
Day 5: Transfer to the Loire Valley vineyards of Sancerre and Pouilly. "Sauvignon Blanc Kingdom".
We take the direction of Sancerre and Pouilly sur Loire on the way to the heart of the Loire Valley.
Tour, wine tasting and buffet lunch at the Chateau du Nozet.
This Domain is famous around the world for its white wines made of Sauvignon Blanc. After a walk in the vineyards, you take part into a private tour of the winery. Of course, you will taste their wines of the best "cuvees" (Pouilly Fumé de la Doucette). A buffet lunch is served with wines of the domain. During this finger buffet, you will enjoy some outstanding white and red Sancerre of the Domain. You end the meal with a taste of Black current liquor made at the property La Doucette. This tour and tasting is exclusive for Pascal Mineau customers!
Your chauffeur guide drives you to Sancerre. After a presentation of the Sancerre vineyard, tour and wine tasting of white, rose and red wines.
Option: Landing with a helicopter by the Chateau du Nozet, visit of the domain, visit of the winery and wine tasting at the Chateau du Nozet is exclusively for "Loire Valley Tours" customers.
Departure from the Chateau du Nozet in a helicopter for a flight over the Chateau of Chaumont sur Loire, Blois, Cheverny and Chambord.
The helicopter takes you to a lovely guest house in the heart ot he Loire Valley. 1 600.00 € suplement per person, based on 2 people.

YOUR GUEST HOUSE FOR 2 NIGHTS
Check in at luxury Manor guest house.
Nested in a park of more than a hectare, this small manor house from the 16th century has been totally restored.
The owners of this charming Manor welcome you just like friends.
It is for you a good occasion to spend some time with locals in a very comfortable environment.
Relaxing moment at the manor before dinner.
Home maid dinner with a good wine selection.

Day 6: Heart of the Loire Valley "Grand crus".
Transfer to Villandry.
Guided tour of the Gardens of the Chateau of Villandry.
By its diversity and originality (Love Garden, Kitchen Garden, Aromatic and Medicine Plant Garden, Water Garden and the brand new Sun Garden) and by its size ( 15 acres, 1150 linden trees), Villandry is the Loire Valley garden not to be missed. With your guide, learn to speak the language of a medieval and Renaissance garden, discover the power of thyme and basil on your health.
The gardens of Villandry are now maintained without using any pesticides.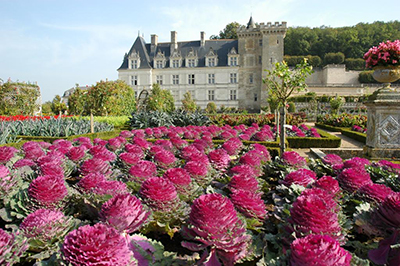 Lunch is at your convenience in Chinon.
Walk in Chinon historical streets in the steps of Joan of Arc and Richard the Lion Heart.
Private tour and wine tasting in Chinon.
Early afternoon, the Chateau de Ligre welcomes us for a visit of its vineyard in Chinon.
You are welcomes in the land of the lovely Chateau de Ligré built in XIX century and praised by the famous French writer Rabelais.
Since 1971 this domain belongs to Pierre Ferrand – keen wine maker, who will share with you his love to Chinon wines. Wine makers for three generation.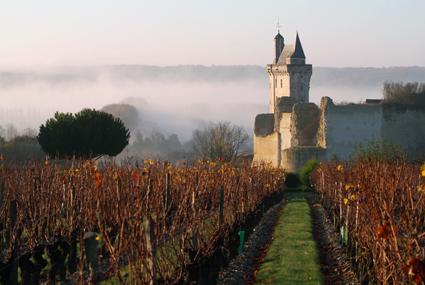 To end the day, we go to Bourgueil at the Domaine de la Chevalerie in Restigné for a private tour and wine tasting.
Established in 1640, this estate is always in the possession of the same family. Mr Caslot is the 14th generation of wine maker. The 90 acres family property elaborates fantastic red wines made from the cabernet franc grape. His best vintage is made of 70 years old vines.

Home maid dinner with a good wine selection.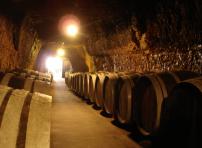 Day 7: drive to TGV station.
Transfer to Saint Pierre des Corps TGV station.
55 min ride to Paris Montparnasse station.
This tour includes
transportation in an air-conditioned comfortable Mercedes Minivan, fulltime wine guide fluent in English, 3 gourmet dinners, 6 nights in 4*L hotels, double occupancy superior rooms, 2 wine tasting lunches, visits and wine tasting in Reims, Epernay, Chablis, Nuits Saint Georges, Gevrey Chambertin, Puligny Montrachet, Pouilly Fumé, Sancerre, Chinon, Bourgeuil, visit the monuments of Reims Cathedral, Dom Perignon tomb, Clos Vougeot, Hospices de Beaune, Gardens of Villandry. The wineries mentioned in this tour are subject to changes.
This tour doesn't include
Drinks, extra, gratuities and lunches.
| | |
| --- | --- |
| Duration of the tour | 7 days |
| Type of travel | Private tour |
| Minivan | Semi private or private tour. The transportation of this excursion is operated in a comfortable full options minibus. Maximum 8 passengers per minibus. |
| Children | Reduced price for children under 12 years old. Free of charge for infants under 3 years old. |
| Guide | Semi private or private tour. This tour is escorted by an official Guide Interpreter. The guide gives you a tour of the monuments and presents you the history and architecture of the visited sites and towns. |
| Lunch | Traditional wine maker lunch and drinks are included in the tour. Lunches are hosted by winemakers to present you local specialties and good local wines. (Specific diets have to be mentioned 72h in advance). |
| Types of travel | Private tours |
| Destinations | Loire Valley |
| Destinations | Burgundy |
| Destinations | Champagne |
| Number of destinations | 3 |
| Duration | 7 |
Expert on customized private tours all over France since 2003 !
You like this tour but you do not want to share the minivan with other guests ? We have the perfect fit for you ! Enjoy this tour on a private basis !
The exclusivity of a private expert English-speaking driver guide.
Private transportation in a full option minibus comfortable Mercedes minivan.
Complementary pick up and drop off at your hotel.
Our guides will not give you a lecture but will take you as a friend and in a relaxed way, reveal plenty of anecdotes ! The guarantee of having a tour completely adapted to your profile, your questions and your preferences !
Private Wine tours: Champagne, Burgundy & Loire Valley, 7 days and 6 nights in a 4 * hotel
Customer ratings and reviews
Nobody has posted a review yet